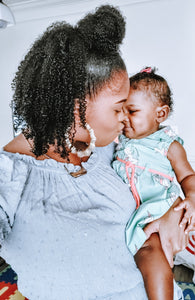 Our Story
WELCOME TO MY SITE!!! My name is Mandy and I am the founder of GraceBabyCo. I am also a wife and a mother.
GraceBabyCo. was created as a solution to my daughter awakening in the middle of the night crying for her "paci". I started buying pacifier clips but then realized she was chewing on them. There was no telling what toxins she could possibly be ingesting so then GraceBabyCo. was born. We use only 100% non-toxic, lead free, mercury free, BPA free, phthalates frees, PVC free, FDA compliant, food grade, tasteless, odorless silicone. (I know that is a mouth full😁) Our wood is natural untreated wood.
When doing markets customers expressed the need for something just as colorful and custom for them. From there we have expanded our brand to include apparel, libbey glasses, wristlet keychains, and stationary. So there is a little bit for everyone.
Thank you for trusting our brand for you and your family!
FAQ
Yes. They are 100% non-toxic, bpa free, lead free, phthalate free, odorless, and tasteless. The wood is natural, untreated wood
Yes. There is a note to seller box at checkout.
The silicone soothes their gums while the wood helps their teeth break through.
We have 12mm,14mm &19mm beads.We have wood, stainless steel, and plastic clips. All can be substituted in for each product.